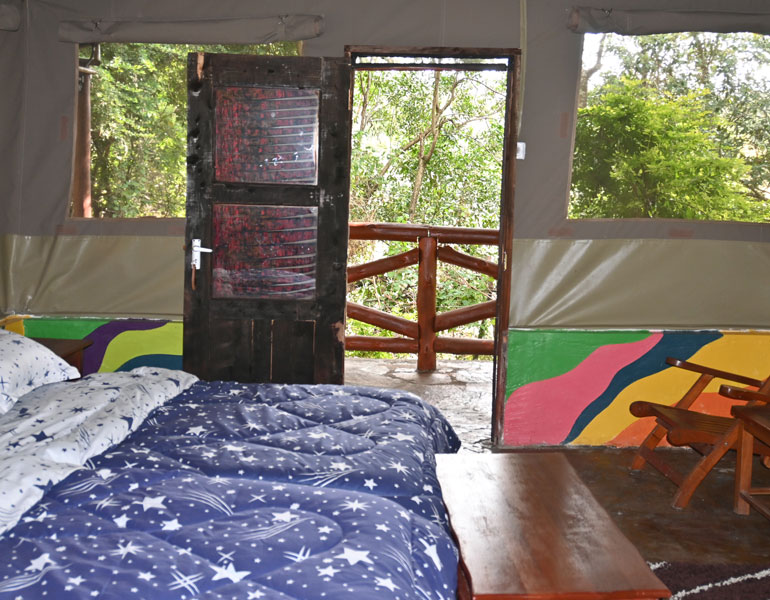 A Kenya safari tour can be enchanting and life-changing. Surrounded by the spectacular beauty of nature, it will transform your perspective of looking at the world. But a Kenya safari is not limited to the time spent for game drives in the national parks, conservation areas, and the savannah. The place where you lay your head at night after adventure-filled daylong game drives can be just important for your vacation.
Staying at a tented camp or a Kenya safari lodge can help you enhance your overall safari experience. There is a huge availability of tented camps and safari lodges throughout Kenya boasting spectacular views of the lakes or mountains, as well as wildlife species.
If you wondering why to book a Kenya Lodge safari tour package, please take a look at this blog post and find out:
Wildlife Viewing –
Kenya is well-known for its high concentration of wildlife species including the majestic "Big Five" – Elephant, Lion, Leopard, Rhino, and Buffalo. Booking a lodge safari tour in Kenya offers you an opportunity to visit different national parks and game reserves like Masai Mara National Reserve, Amboseli National Park, Tsavo East, and West National Parks, and much more. While visiting there, you can explore diverse wildlife species in their natural habitat.
Luxury and Comfort –
When you plan a safari tour in Kenya, you want safari accommodation providing enormous comfort, luxury, and convenience. Safari lodges have amenities like well-equipped rooms, private bathrooms, delicious meals, and splendid views of the natural landscapes.
You should book one of the best safari lodges in Kenya that allows you to explore the spectacular wilderness of Kenya without compromising on your comfort.
Guided Assistance –
Booking a lodge safari in Kenya often offers you to enjoy the assistance of experienced tour guides having in-depth knowledge of local wildlife, culture, and ecosystems. A professional safari guide will accompany you to improve your overall safari experience by offering you valuable insights, and optimal wildlife sightings and making sure that you are safe throughout the journey.
Scenic Nature –
Kenya boasts striking natural landscapes ranging from vast savannahs to snow-capped mountains, picturesque lakes, and dramatic rift valleys. Taking a lodge safari offers an opportunity to stay amidst these awe-inspiringly stunning locations and capture amazing photographs while indulging in the scenic beauty of nature.
Conservation and Sustainability –
Most lodges in Kenya focus on eco-friendly practices and support conservation efforts. When you book a Kenya lodge safari package, you will actively contribute to the local economy and help support conservation initiatives aiming to protect wildlife, preserve natural habitats, and benefit local communities.
Bottom Line –
Hopefully, now you know why a Kenya lodge safari is an enticing option for all nature lovers, wildlife enthusiasts, and people who want a unique and memorable travel experience in the heart of Africa.
So, consider booking a safari lodge package in Kenya through Drunken Elephant Mara today, and let us help you get back with wonderful memories to cherish forever. Browse our available Kenya lodge safari packages and itineraries and find the right itinerary for your preferences.