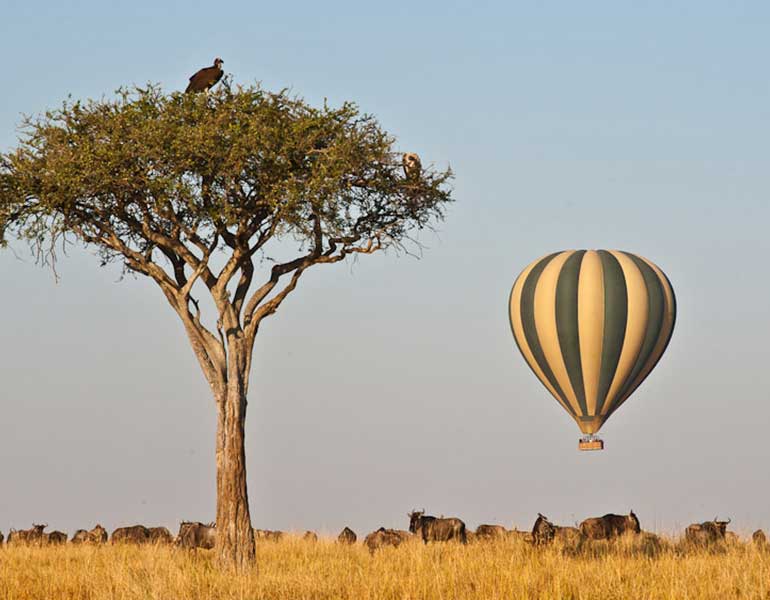 If you want to see the majestic Masai Mara National Park as you never have before, then a hot air balloon safari is the perfect way to make your trip truly memorable. This wonderful flight can give you an aerial view of the stunning scenery that makes this part of Kenya so spectacular. But there is more to this charming experience than simply traveling across the region in a hot air balloon. After all, it gets its name from this region and the beautiful animals that inhabit it, the majority of which are found here too.
Keen to take in the best of Kenya? Then you've got to try a Masai Mara hot air balloon safari. This is a once-in-a-lifetime experience and one you'll be talking about for years to come. The Masai Mara National Park is home to over a million wildebeests, making it the perfect place to see these animals as they migrate from Tanzania. A balloon flight over the Masai Mara gives you a thrilling insight into this amazing landscape and the animals that inhabit it. You can see up close and personal, as you drift alongside herds of antelope and giraffes – or watch predators such as lions, cheetah, and hyena hunting their prey. What's more, your flight takes place at sunrise when the light is perfect for photography and there are fewer tourists around. During your 1 hour flight, you'll have plenty of time to capture amazing images or simply sit back and enjoy the experience with a glass of bubbly on landing.
Kenya is a perfect destination for hot air balloon safaris. Kenya is home to arguably the best national parks in Africa where you can enjoy a hot air balloon safari. The Masai Mara game reserve, located in south-western Kenya, has been ranked among the best places to go on a hot air balloon safari and watch the annual wildebeest migration that happens every year between July and October. To prepare for your aerial adventure, here are some tips and things to expect while on this luxurious yet exciting safari.
Hot Air Balloon Safari
Hot air balloon rides take place in the early morning hours when it's neither too windy nor too cold. The balloon will be inflated with warm air from a propane burner as it rises above the savannahs. You'll be able to view an astonishing 360-degree view of the surrounding wildlife and landscapes as you enjoy breakfast aboard your balloon ride. A Masai Mara hot air balloon safari lasts around one hour and costs about $500 per person.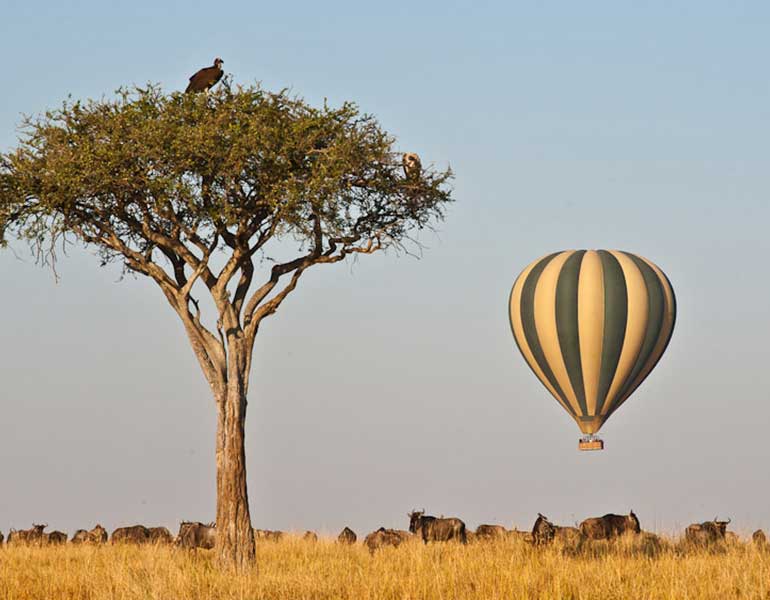 Here at Drunken Elephant Mara we love to share unique experiences, and hot air balloon safaris in Kenya is certainly a special way to see this world famous safari destination. We hope that our visitors enjoy the unique aerial experience and will be inspired to add a hot air balloon safari in Kenya to their travel plans.